Cut&Place Die Cutting Stations
Kocher+Beck offers creative and innovative special solutions. Bespoke systems, specially adapted to suit your respective product and requirements. Think out of the box, think rotary!
Utilising our extensive industry knowledge in the field of flexible dies and magnetic cylinders, Kocher+Beck is a leader in the design and manufacture of complete cutting and special units for your applications.
Cut&Place Die Cutting Stations
Increased speed for your process.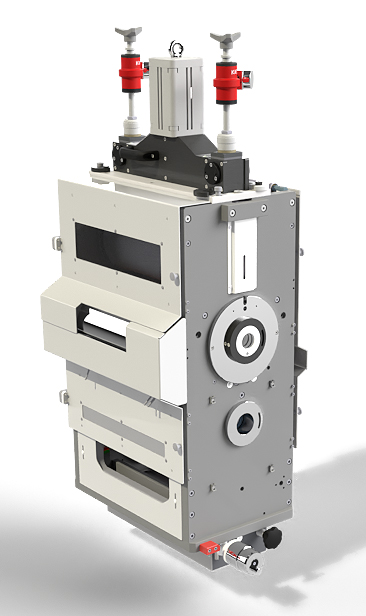 Overview:
Kocher+Beck's Cut&Place die cutting stations are the perfect choice for a wide range of individual finishing projects or special cutting applications.

Moving away from the classic pick and place principle, Cut&Place units from Kocher+Beck are already used in a wide range of industrial applications. With Cut&Place units, the cut parts can be transferred to continuously running conveyor belts or carrier material webs.

Customised concepts from our design department are implemented specifically according to your requirements.

Involve us in your project at an early stage and we will provide you with full support in rotary solutions.
Benefits:
Maintenance free bearings
Pneumatic or manual cylinder lifting
Magnetic cylinder or cutting cylinder can be used
Sturdy construction for highest precision
Stainless steel version possible
Speed-independent